Sock Cop was on the Tom Green YouTube show Web-o-vision on May 5, 2015. Tom and guest, Daryn Jones, met the magnificent Sock Cop via Skype, who was his lovely Sock self. They did not entirely understand Sock Cop, and they sent high doses of shade his way. They made the assistant show his face and then heckled him for being out of character. Tom does drive at a reasonable speed, so at least he had a redeeming moment.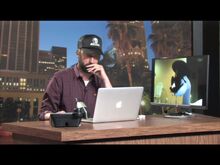 After calls from the YouTube chat for an encore, Sock Cop returned to the Tom Green show where Sock Cop said nothing but nice things, but the host and guest continued to not get and be snarky to Sock Cop. At a critical moment the Skype call ended.
Towards the end of the show they said they were getting comments in the chat about how they mistreated Sock Cop, but their response was that everything is scripted and that their prop department created Sock Cop and that he is just in the other room.
Sock Cop remained positive with his peoples on the Periscopes but was a bit agitated Tom Green and guest did not understand him. It should be noted that Sock Cop had ~150 to 200 concurrent viewers during his show while the Tom Green YouTube show hovered at ~100 viewers.
After the end of the show, Sock Cop was invited back to the Tom Green Show, without the guest Daryn Jones. It was said that Tom liked Sock Cop, but Daryn was the one throwing most of the shade. When Sock Cop was called on Skype the first time there were technical difficulties when a YouTube video was playing in the background of the conversation.
Sock Cop returned for a second take to take calls and questions from YouTube. This exchange went much better without the shade throwing by Mr. Jones. Sock Cop answered questions, sang songs, and did impressions. Tom invited Sock Cop to one of his standup gigs and potentially to be on the YouTube show again. Tom Green has redeemed himself.